Best Restaurant to eat in Kuala Lumpur (KL) Malaysia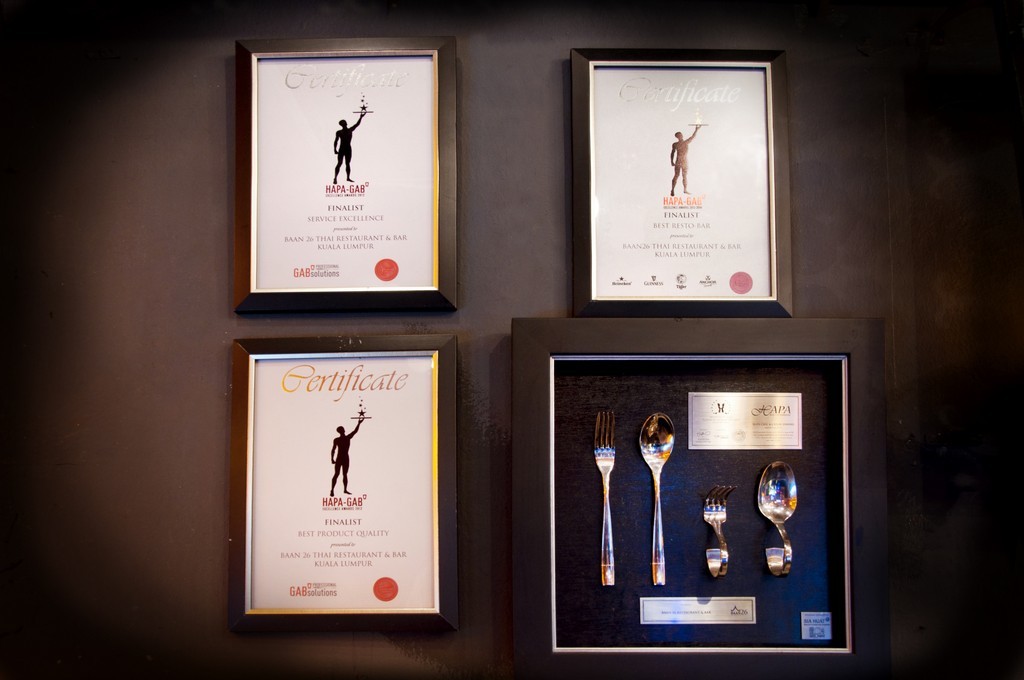 Baan 26 restaurant serves authentic Thai cuisine. Our menu features a variety of dishes from soups, salads, fried rice, noodles and meat dishes. What makes Baan 26 stand out from other Thai restaurants is that they serve Mieng Kam, a type of DIY appetiser that you can't find in any other Thai restaurant. Baan 26 has an authentic and casual atmosphere about it, making it a truly unique dining experience.
At Baan 26, you will find whatever you are looking for to satisfy those hunger pangs, and with our wide range of dishes means that there's something for every palate!
BAAN 26 THAI RESTAURANT & BAR
Baan 26 was created for the discerning palate when it comes to Thai cuisine and here, authenticity is key. The menu boasts of items that we have come to love from Thailand such as the Spicy Tom Yam Soup that's packed with a punch, the highly addictive Lime & Chili Seabass, the ever satisfying Pandan Leaf Chicken Wrap and Mango Sticky Rice, a popular sweet ending.
Other perennial favourites at Baan 26 includes Pad Thai with Shrimp, Stir-Fried Glass Noodles with Tiger Prawns in Claypot, Thai Green Curry Chicken and the list goes on. Some of the ingredients used in the dishes are imported from Thailand to ensure consistent flavour and authenticity. Kah Fei believes that classic dishes are still the best and are most sought-after by diners.
The food is complemented by a drinks list with a strong showing of wine, draught beer, whisky, brandy, cognac and creative cocktails such as Sawasdee 26, Tuk Tuk, and Thai Zeed. Together, they make for a special dining experience that will leave a long-lasting feeling of satisfaction.
Décor here is eclectic and stays true to its name – home. The walls are covered in a fiery red coat of paint and it brings to live the knick-knacks from Thailand that are placed around the establishment. It doesn't take long for one to warm up to Baan 26, honestly.
With all these elements, it doesn't come as a surprise that this restaurant chalked up several recognitions including finalists for Best Product Quality and Service Excellence at the HAPA-GAB Excellence Award 2012 and also the Top 5 HAPA Chic & Casual Dining (Malaysia Series).
To judge Baan 26 by the crowd of diners day in day out, one can be certain that this restaurant will continue to stand the test of time.
 Chai Kah Fei, director of F&B outfit Jubitage Sdn Bhd, has a deep passion for all things Thai. In his early days of travel across borders, a trip to the land of smiles left a lasting impression. And given his calling in the food & beverage industry, his love for Thai food blossomed naturally.
After spending several years helping others set up restaurants, Kah Fei felt it was time for him fulfill his dreams of owning a restaurant. And so it was as a young man at the age of 26, he made a decision take diners on an unforgettable Thai culinary journey right here in Kuala Lumpur.
In 2006, he founded Baan 26 Thai Seafood Restaurant in the popular enclave of Changkat Bukit Bintang. This strip was fast becoming Kuala Lumpur's hottest spot to wine, dine and let your hair down at that time and even till this day, it hasn't shown any signs of slowing down.
Baan 26, or house number 26 in Thai, is among the few establishments that have stood the test of time in this area and Kah Fei believes it is because he stays true to authentic flavours while moving along with times. From a restaurant, in the more recent years, the establishment transforms into a throbbing bar as night falls.
Kah Fei is also the proud owner of three other outlets – Tuk Tuk in Malacca City, Eat Thai in Klang and Lobby Restaurant & Lounge which is located a stone's throw away from Baan 26 at Jalan Nagasari. It is his passion for food, service and people that has taken him through several highs in his career.
"I'm very involved in my business from every aspect, be it managing the staff and finances or overseeing food preparation and décor. I often work closely with the chef to ensure we present food that is authentic and top notch. Most importantly for me is building relationships with staff and customers," says the 35-year-old who is now friends with some of his customers.
It doesn't take much to make him happy. His customers' satisfaction vindicates his role as a restaurant owner and that pushes him to strive harder. Kah Fei dreams of owning a resort by the sea some day. Watch this space!
The restaurant's Director, Kah Fei, is a Malaysian with a strong passion for all things Thai, particularly Thai cuisine. Having worked in Thai restaurants for years, Kah Fei learnt the art of Thai cooking by mere observation. Kah Fei believes in presenting the food as closely as possible to the original, as evident in the restaurant's offerings.We are presented with five popular dishes from the kitchen of Baan 26, served with a portion of steamed fragrant Thai rice: steamed fish with lime and chillies, Thai basil leaf minced chicken, Thai-style stir-fried brinjal with basil leaf, Thai mango salad with crispy catfish and red tom yam with prawn and oyster mushroom. The steamed fish is a signature Thai dish, which comes to us still bubbling in its platter, kept hot from underneath with a couple of mini burners.
Food The Flesh of the steamed sea bass is sweet, moist and tender – together with the sour lime and the fiery chillies, the dish is a medley of flavours that is quite out of this world. The minced chicken is served on top of homemade beancurd that has a pudding-like consistency, which just melts in the mouth, and the stir-fried brinjal, cut into bite-size pieces, is both spicy and tasty. The crispy catfish in the mango salad has a very light, fluffy texture, resembling traditional fish floss in both look and taste. The red tom yam is my favourite. Thick, hot and flavourful – just the way I like my tom yam – it leaves me with watery eyes, runny nose and burning tongue, but only because it is so good it's addictive; I can't seem to stop spooning it into my mouth.
Baan 26 is intimate and cosy during the day while the night is  a livelier atmosphere, with the well-equipped bar in full swing and a huge ceiling-mounted plasma screen airing the latest music videos and sports matches. The place gets especially busy during Friday and Saturday nights, when it is often close until late, way beyond its normal operating hours.
Baan 26 wouldn't go amiss on the streets of Bangkok. Looks and feels just like average neighbourhood Thai restaurant. Cosy eatery for you to enjoy a meal in. A warm, golden glow bathes the space within its pink-and-yellow walls, and iridescent sequin bead curtains cascade prettily down the ceiling at the back.
Décor ranges from the classic (such as the antique lacquerware tiffin carriers and the Thai figurines in the back dining area) to the whimsical (such as the butterfly-populated wrought-iron wall grilles and the handmade ceiling hangings fashioned out of colourful foam cut-outs near the front). The porch is turned into an al fresco dining area, while the upstairs dining area is normally reserved for functions and special occasions.
Drinks
Drinks selection of red and white wines from Italy, France, Australia, Chile, USA, Argentina, Spain, South Africa and New Zealand. We have range of liquors – whisky, brandy, cognac, vodka, gin,rum & draft beers too. Baan 26 serves specialty cocktails with interesting names such as Monsoon Red Alert and Pandan Fantasy.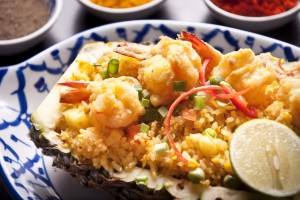 Food
Food Featuring authentic recipes from the humble Thai kitchen, Baan 26's offerings are full-bodied and satisfying – none of the watered-down variety that can be found in some so-called posh Thai restaurants. Served with a slightly modern twist, Baan 26's dishes retain original, traditional flavours.
BAAN 26 CHANGKAT BUKIT BINTANG
Come & Visit us Now!
Our location
About Malaysia
For years, 
Malaysia
 cruised under the tourist radar, overshadowed by its more popular Southeast Asia neighbors such as 
Thailand 
and 
Singapore
.
Yet, steady economic growth and a particularly catchy "Malaysia Truly Asia" tourism campaign have helped lift the country to prominence.
Malaysia is a tapestry of diverse cultural influences, drawing from its local indigenous, Malay, Indian and Chinese communities as well as its colonial heritage.
It's also a story of contrasts — a place where smooth highways lead to both modern cities and lush rainforests, where street vendors set up shop in the shadows of skyscrapers and hipster cafes operate next to traditional kopitiams (coffee houses).
On August 31,
Malaysia
celebrates Merdeka Day, signifying 60 years of independence from British rule.
THINGS TO DO
1. Find Malaysian natural life
The Sepilok Orangutan Rehabilitation Center is world-celebrated for its protection endeavors.
The Sepilok Orangutan Rehabilitation Center is world-well known for its preservation endeavors.
Malaysia has no lack of characteristic excellence – it's home to one of world's most established rainforests, broad give in frameworks and monstrous mangrove woodlands.
Normally, this makes the country a perfect goal for untamed life spotting.
Voyagers can watch fauna overnight from the security of cabins inside Pahang National Park, where the most seasoned deciduous rainforest on the planet is standing by.
In Kuala Gandah – additionally in the territory of Pahang – visitors can go with stranded elephants for day by day showers at the National Elephant Conservation Center.
In the interim, the Sepilok Orangutan Rehabilitation Center in Sabah on the island of Borneo offers a look at these jeopardized awesome primates in their common habitat. They tend to swing by the survey stage around sustaining times, at 10 a.m. also, 3 p.m.
Nearby, the Bornean Sun Bear Conservation Center is devoted to the world's littlest bear species.
2. Remain in a town
The Malaysian Homestay program works with nearby groups to offer a bona fide kampung (town) encounter.
Inquisitive explorers can remain with neighborhood has – or in customary long houses – both in Peninsular Malaysia and Sabah and Sarawak in the east.
The experience incorporates day by day town exercises, for example, getting ready nearby dinners, angling, nourishing animals or learning Malaysian diversions, for example, congkak (a wooden prepackaged game) and gasing (turning tops).
3. Investigate Gunung Mulu National Park
Malaysia ©Pinnacles (Mulu WH)
Malaysia's Gunung Mulu National Park.
An UNESCO World Heritage Site, Gunung Mulu National Park in Sarawak is acclaimed for its centuries old karst bluffs.
For sharp spelunkers and climbers, this implies testing mountain appearances to scramble up and investigate stunning cavern chambers.
Deer Cave, for instance, frames the biggest give in section on the planet, measuring 400-550 feet in distance across. Situated toward the upper east of Deer Cave, Sarawak Chamber is the world's biggest buckle chamber, extending around 2,000 feet long, 1,400 feet wide and just about 33 feet high.
Be that as it may, not simply anybody can hop in: Visitors quick to investigate the further developed give in frameworks must give affirmation or confirmation of capacity for the recreation center administrator's endorsement.
4. Go whitewater boating
Adrenaline addicts will value Malaysia's mind boggling system of waterways, which offers rapids for all levels of trouble.
For class 1-4 rapids the Selangor River in the town of Kuala Kubu Bharu in Selangor, Slim River in Perak and Padas River in Sabah are only a couple of the numerous prevalent goals for recreational whitewater boating.
More experienced rafters can go to the Telom River in Pahang to handle class 5 rapids.
Furthermore, if that is insufficient, Singoh River in Perak is the place rapids achieve a heart-ceasing level 6 – the most elevated amount on the universal quick scale, just to be endeavored by specialists.
5. Chase for fireflies
Your pontoon is floating noiselessly along a mangrove-lined waterway. Sunlight is melting away and all of a sudden, you spy many glinting lights.
In Malaysia, there's just a single thing it could be: Fireflies.
Additionally referred to likewise as lightning bugs, or kelip-kelip in the neighborhood Malay dialect, these small animals are cherished for their magnificence.
There are a few areas where explorers can appreciate the glimmering creepy crawlies, incorporating Kuala Selangor in Selangor; Kuala Sepetang in Perak, Kampung Cherating in Pahang, Kuching in Sarawak and Sandakan, Semporna and Kota Kinabalu in Sabah.
As a reward, some visit gatherings will even toss in a fish supper earlier or after the pontoon ride.
6. Discover an island heaven
Sipadan is the main maritime island in Malaysia, rising 600 meters (2,000 ft) from the seabed.
Sipadan is the main maritime island in Malaysia, rising 600 meters (2,000 ft) from the seabed.
On the off chance that it's unmistakable water and sandy shores you're after, Malaysia has you secured.
From extravagance resorts to private islands, hiker inns and beachfront lodges, there's an island encounter for each financial plan.
Also a couple of the world's best jump destinations.
The rich waters are abounding with ocean animals, for example, hammerhead and different sharks, barracudas, ocean turtles and manta beams.
For jumping, famous decisions incorporate the Perhentian Islands, Redang Island in Terengganu, Tioman Island in Pahang, Pangkor Island in Perak, Langkawi Island in Kedah, and Gaya, Sipadan and man-made Layang-Layang island, all off Sabah.
Plan ahead as islands off the east drift are shut from October to February or March, because of the yearly rainstorm season.
7. Take a stab at metalworking
At its stature in the nineteenth century, Malaysia was the biggest supplier of tin mineral on the planet. Furthermore, where there's tin, you will discover pewter, a dim composite metal made up of tin, copper and antimony.
Illustrious Selangor, the world's biggest pewterware maker, gives voyagers a hands-on presentation.
Opened in 1885, the memorable brand's home office offers two pewtersmithing workshops: the School of Hard Knocks for learners and the all the more difficult The Foundry.
Under the direction of a prepared pewtersmiths, explorers utilize customary instruments and methods to make their own particular remembrances.
Imperial Selangor, Visitor Center 4, Jalan Usahawan 6, Setapak Jaya, Kuala Lumpur, Malaysia; +60 3 4145 6122
8. 'Knapsack' on two wheels
The cycling group in Malaysia has developed significantly lately on account of rising systems of cycling paths in urban communities the nation over, for example, Kuala Lumpur, Shah Alam in Selangor, George Town in Penang and Putrajaya, Malaysia's authoritative capital.
Many experienced cyclists, as well, are forsaking urban ways and taking to soil streets to better investigate the nation.
One cycling fan, Nadiah Aziz – who writes about her cycling undertakings at Folding Tales – depicts cycling as "the better approach to knapsack."
Also, you won't need to go only it: Many grassroots gatherings sort out cycling journeys along lesser-frequented trails.
Among them are Cycling Kuala Lumpur, Bicycle Map Project (KL), spouse wife mountain biking group Doowaroda (across the country), and Kinabalu Iron Horse (Sabah).
9. Visit the locale's biggest Islamic Arts Museum
Islamic Arts Museum features incorporate imitations of popular structures, for example, india's Taj Mahal and Uzbekistan's Amir Timur Mausoleum.
Islamic Arts Museum features incorporate imitations of popular structures, for example, india's Taj Mahal and Uzbekistan's Amir Timur Mausoleum.
The biggest historical center of its kind in Southeast Asia, the Islamic Arts Museum Malaysia grandstands the abundance of Islamic societies through its broad accumulations of works of art and curios.
The exhibition hall stresses works from Asia – particularly, China, India and the Malay Archipelago.
It offers a feeling of Malaysia's one of a kind type of Islamic personality, an aftereffect of its area at the focal point of once extraordinary exchange courses, Islam's concurrent development in the locale and the nation's inevitable multicultural cosmetics.
Islamic Arts Museum Malaysia, Jalan Lembah Perdana, Kuala Lumpur, Malaysia; +60 3 2092 7070
10. Find out about Malaysia's melodic history
Opened a year ago, the Penang House of Music, an intelligent history exhibition hall, recounts the account of the island's melodic legacy.
This vast complex narratives Malaysia's melodic beginnings, accomplishments and melodic greats, for example, celebrated around the world vocalist musician, executive, and on-screen character P. Ramlee, jazz legend Jimmy Boyle and arranger Ahmad Nawab.
The House of Music likewise records nearby conventional artistic expressions, for example, bangsawan, boria, ronggeng, manikin theater and Chinese musical show.
Those harboring mystery any expectations of turning into a radio DJ can try it out in the Radio Room.
Penang House of Music, L4-02, 4/F, KOMTAR, Penang, Malaysia; +60 4 370 6675
11. Visit one of the world's most current capitals
Present day Malaysia: Putrajaya, Malaysia's authoritative capital, is decorated by a variety of current design. It assumed control from Kuala Lumpur as the nation's political center point in 1997 and is, to a substantial degree, a reason assembled capital city.
Glimmering and manicured, Putrajaya is the new child on the square.
According to the vision of Malaysia's fourth and longest-serving Prime Minister, Dr. Mahathir Mohamad, Putrajaya has been the country's managerial capital since 1997.
It's a reason constructed city and an absolute necessity see for design buffs. Structures and structures here make up a varied mix of present day style, customary Moorish or Islamic impacts, and even Palladian or Neoclassical touches.
Most remarkable is the emotional Palace of Justice, the famous rose-pink Putra Mosque on Putrajaya Lake, and the contemporary bends of the Seri Wawasan connect.
You can likewise select a superior view, as hot air swell rides are accessible. More on the experience here: Putrajaya from above.
12. Hit the boulevards of Kuala Lumpur
Considerably more than simply the nation's capital, business and amusement center, Kuala Lumpur is Malaysia's pulsating heart.
The 88-story Petronas Twin Towers – the world's tallest twin structures – intersperses practically every perspective of the government region's horizon.
A ride up to the Skybridge, which interfaces the two towers, guarantees a staggering city see.
For a look into KL's differing history, a visit to Little India – known as Brickfields – guarantees shading every step of the way, with sanctuaries and dealers, bloom laurels, Indian dress stores and scrumptious South Indian desserts, snacks and hot dinners.
In the interim, in KL's Chinatown on Petaling Street, explorers can attempt their fortunes wheeling and dealing with road merchants, who offer each.